TOP TIPS FOR INVENTORS
for our BBC Radio Coventry & Warwickshire Listeners
FREE
IP-Active.com download
'Top Tips For Inventors'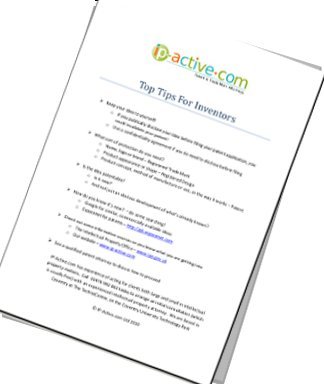 [PDF, 18kB]

RADIO: BBC Coventry & Warwickshire
94.8FM | 104FM | 103.7FM | DAB
If you were listening to Annie Othen from BBC Coventry & Warwickshire radio shortly before lunch on Friday 24th September 2010 you may have heard Patent & Trade Mark Attorney Tim Blower having fun fielding fictional 'just for fun' invention ideas on Annie's show. The question uppermost in everyones' mind was:
'Is my idea patentable?'
However, the answers were definately not one-size-fits-all. Each answer - tailored to the specific invention idea - raised new aspects of the patent system.
The excuse for this high-jinx was, of course, Coventry's "Festival of Invention & Design".
Annie Othen's Invention . . . Lives On?
Tim re-appeared on BBC Radio Coventry & Warwickshire on Thursday 14th October 2010, keeping Annie on the straight and narrow as she pursued her idea for a new invention!
Tim's Radio Broadcasts: BBC Coventry and Warwickshire
September 2010: (link expired)
October 2010: (link expired)
Listen to Annie Othen talking to a Patent Attorney about patenting her invention idea (available 14 October 2010, for 7 days)
Top Tips For Inventors - Free IP Download:
We have prepared single IP TOP TIPS FOR INVENTORS SHEET [PDF] for listeners to download.
Next 'Patent Attorney' slot on The Annie Othen Show:
Annie's invention idea is not quite dead in the water. A patent may be out of the question, but at the close of the last programme with Tim, Annie was sounding interested at the idea of getting design protection for her flashing cycling jacket . . . .
We'll post news of Patent & Trademark Attorney, Tim Blower's next appearance on the Annie Othen show.
Tim is an experienced UK and European Patent & Trademark Attorney. He is the director of the leading Coventry-based IP firm IP-Active.com - based at Coventry University TechnoCentre.

(More about Tim Blower)




page ref: bbccoventry

Fellow of the Chartered Institute of Patent Attorneys

Member of the Institute of Trade Mark Attorneys
IP-Active.com Ltd is regulated by IPREG